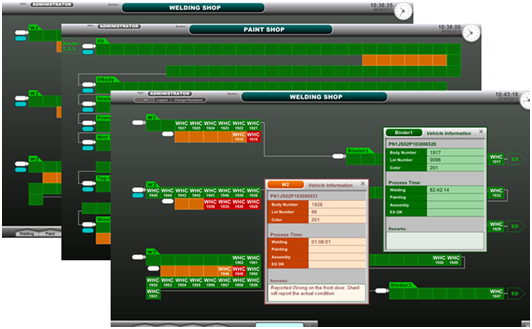 Swift Energy Solutions unit has completed a vehicle tracking system for ASSB
Swift Energy solutions unit has achieved another milestone project by completing a vehicle tracking system (VTRACK) for Assembly Services Sdn. Bhd. (ASSB), Toyota car assembler. VTRACK System was implemented in 2012 by SWIFT. The system consists of 3 main components Production Planning, Shopfloor Data Entry and Vehicle Tracking Board, where Production Planning and Shopfloor Data Entry are developed in Microsoft Visual Studio 2010 edition and the Tracker was implemented with GE Intelligent Platforms Proficy Cimplicity Tracker 8.2.
Production Planning System was developed using Microsoft Visual Studio 2010, this system allow user to key in yearly, monthly and weekly plan. Base on the planning data the system will calculate and suggest the correct planning sequence (vehicle sequencing for line balancing). Reports generated by the system are exported into A4 and A3 size excel file, there are also function to import data from excel. It also has the user access right control on modular level. Tracking data also interface to customer SAP system.
Shopfloor Data Entry was developed using Microsoft Visual Studio 2010 and it communicates with Tracker via OPC protocol.
Vehicle tracking was implemented using GEIP Proficy Tracker which is GE's proven solution for automotive industrial.
The system has been successfully commission and put in service in January 2012.