Full control for production plants and industrial automation with octoplant
octoplant ensures data consistency and greater protection in production plants. The modular software platform offers comprehensive asset and device management as well as backups, adapted to the individual challenges of your industrial plant. Business intelligence enables consistent data evaluation, unlocking valuable insights. Seamless compliance management and reliable threat protection guarantee comprehensive protection for your plant – the optimal combination of OT and IT!
The octoplant promise: Keep production running!
Industrial plants are becoming increasingly complex. The growing number of industrial IoT devices, sensors, and field devices, as well as more suppliers and service providers, are driving an increase in data points. Adding to the complexity are 24/7 operations with tightening set-up times, smaller batch sizes, and external challenges such as compliance, regulation, and cyber risks.
With octoplant, we keep production running, guaranteeing maximum reliability with minimal downtime, increased quality, and high safety standards. The solution creates efficiency in production with predictive maintenance and data-based decision making.
The octoplant hub uses dashboards to provide information about production, maintenance, and management. You can use it to access, analyse, and monitor data taken from numerous octoplant servers.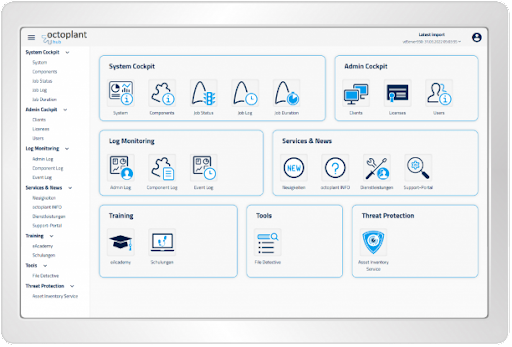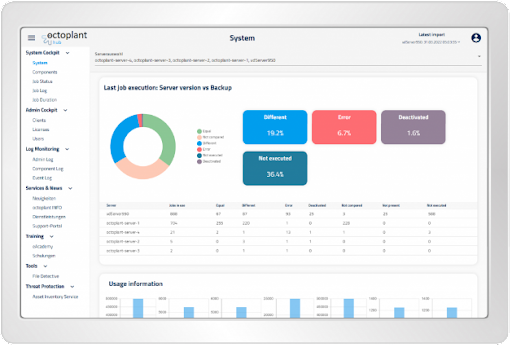 The System Cockpit provides information and transparency about the degree of utilisation of octoplant. Questions such as "How many jobs are active, deactivated?" or "Which jobs led to an error?" can be easily answered here.
Job Log lists the history of all jobs results. It provides a graphical analysis of job results (Equal, Different, Error, etc.) and allows the interactive filtering and sorting needed for analysing the history of specific jobs.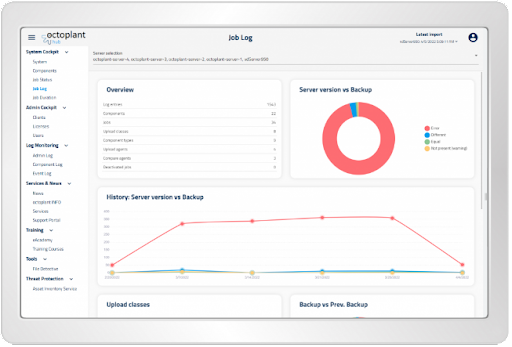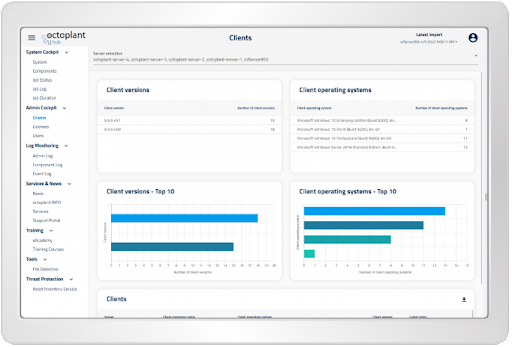 Dashboards and reporting functionalities with overviews of users, client and licenses are available in the admin cockpit.
How octoplant managing complexity